"…I stumbled into a new sort of "happiness," one that didn't hinge on always getting what I want, but rather, on wanting what I have. It's the kind of happiness that isn't tied so tightly to being comfortable (or having money or property), but instead is linked to a deeper sense of satisfaction—to a sense of humility and gratitude, and a better understanding of who I am in my heart."  – Dee Williams, The Big Tiny: A Built-It-Myself Memoir
We all have those days that are just overwhelming and make us want to escape for a little while. Whenever the struggle of the daily grind starts to stress me out, I begin to fantasize about selling all my worldly possessions and cramming my life into a tiny house by the sea, or in the mountains…or movable between the two. That's why I was immediately drawn to The Big Tiny: A Built-It-Myself Memoir, by Dee Williams.
When faced with the reality of struggling to exuberantly live while suffering from congestive heart failure, Dee Williams philosophizes on how much lighter our metaphorical loads would be if only we could literally lighten our physical loads. She challenges herself to take control of her life by simplifying her living space through building a tiny house she then transports from her home in Seattle to Olympia, Washington. Williams takes the reader along on her personal journey through an honest portrayal of the challenges and successes she faces as she builds her new home and adjusts to a new life in her friends' backyard. Through her conversational tone and humorous self reflections she details the realities of her drastic life change, resulting in a really heartfelt memoir. Although this book does not quite prepare the reader to follow her path to pair down your possessions to merely 305 items and commit to living in a structure you've created with your own hands, Williams' story is inspiring and has drastically increased my perusal of tiny house materials available within LFPL.
For further proof that tiny houses can actually be built and inhabited by the average person check out the documentary Tiny: A Story About Living Small. This beautifully rendered independent film is an extremely honest portrayal of the struggles of the physical process of creating a tiny house as well as the interpersonal conflicts of convincing others in your life that this is a worthwhile pursuit.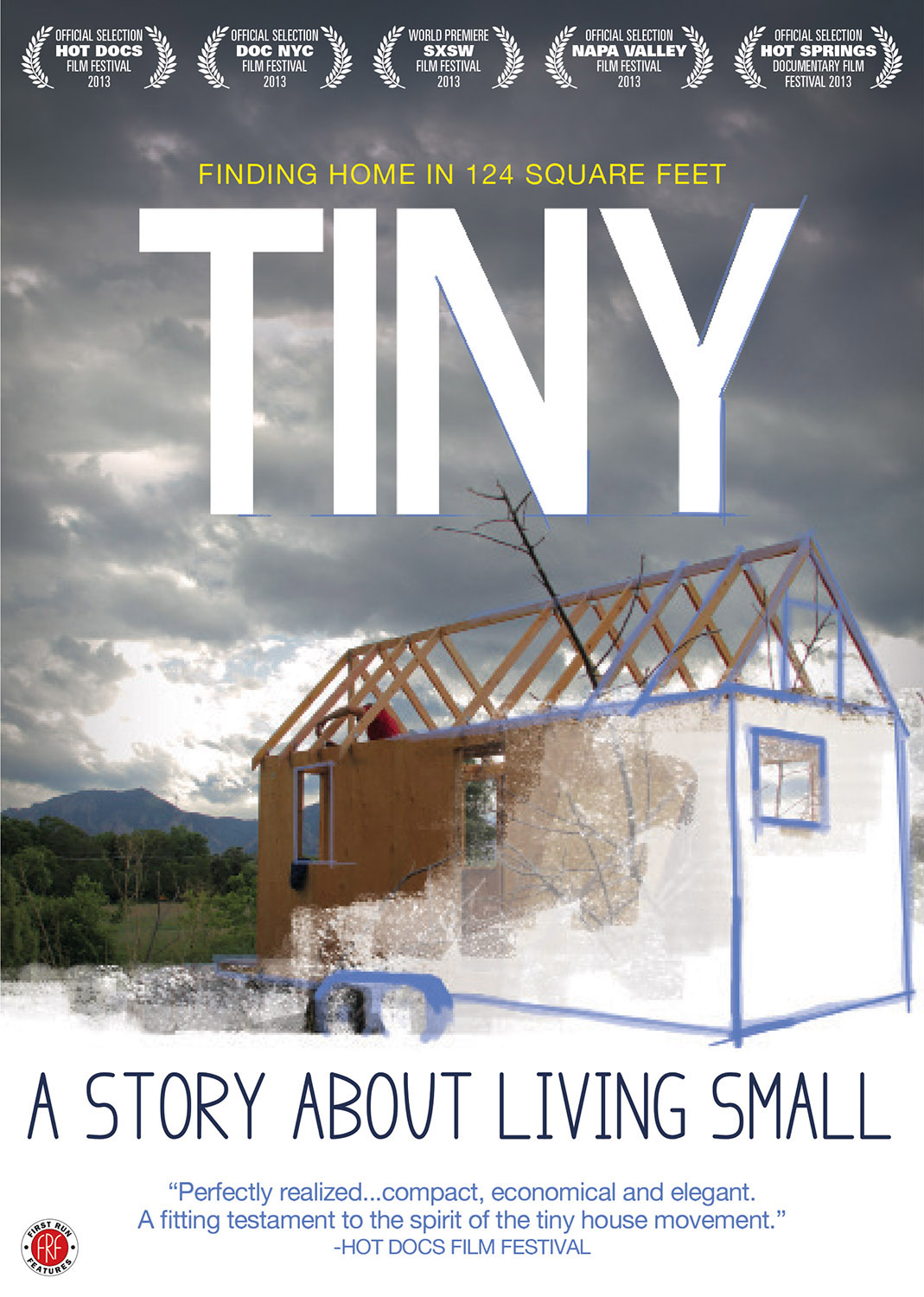 If you'd like to lust after some well-appointed tiny houses in a beautiful, appropriately tiny, coffee table book check out Mimi Zeiger's Tiny Houses.
To see some examples of small houses throughout history, including Henry Thoreau's cabin, as well as some modern addaptations check out Lester Walker's Tiny Houses: Designs for 43 Tiny Houses for Getting Away From it All. This book not only includes beautiful photos, but also some historical background and design sketches of each house featured.
If you'd like a bit more exploration of the philosophy behind the "tiny house movement" and logistical considerations for the planning phase of actually building your own tiny house Ryan Mitchell's Tiny House Living: Ideas for Building & Living Well in Less the 400 Square Feet is a good place to start.
Those brave souls who may actually live the dream and build their own tiny house should consult Jay Schafer's DIY Book of Backyard Sheds & Tiny Houses: Build Your Own Guest Cottage, Writing Studio, Home Office, Craft Workshop, or Personal Retreat for a glimpse at some practical and executable designs with tons of helpful tips on the actual building process.
Format: Book (Regular Type)
Reviewed by Magen, Highlands-Shelby Park Branch